Lista light (nee Glimt) was built in 1935 in Flekefjord, Norway. Prevously a schooner, she is now (since 2001) a ketch with a gaff rig and topmast, measuring 15m LOA with an additional 3.8m bowsprit. She is 5.1m in the beam, draws 2m and weighs 35 tonnes. The original owners were Norweigan and used the boat as a fish transporter until 1972 when she was bought and converted into a cruising boat by Noel Bevan. She was converted to a Gaff Ketch by her last owner, Jay James, who took over from 1986, which has proved the ideal sea-worthy rig for her.
Lista Light now guides Dave and Katharine to new remote parts of the world astride her ample hips! We are the privileged custodians of a boat who has only enjoyed 4 owners in her 80 years. As well as being a regular visitor to famous Brest / Douarnenez wooden boat festivals since 1988,  she has also completed many Atlantic crossings. a full circumnavigation under previous ownership, and recently a 25,000nm circumnavigation of South America via its infamous southern capes.
Take a virtual tour of the boat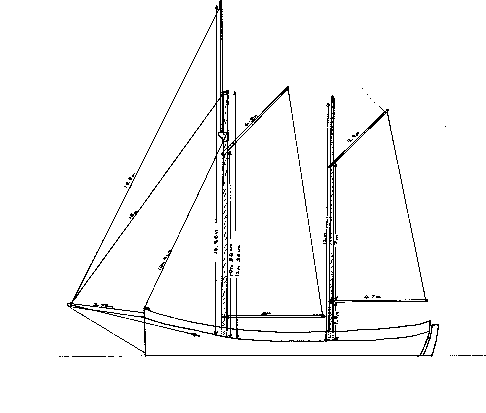 Click here for a summary of recent works
Hull
Pitch pine on pitch pine in true working tradition, with more recent planking replaced in larch. and various tropical hardwoods where good quality pitch pine has been unavailable. She is massively constructed with principal timbers measuring as follows:
Frames 6″ x 9″ at 18″ centres
Stringers 18″ x 2″
Deck beams 6″ x 6″
Beam shelf 12″ x 3″
Decking 2″ x 3.5″
She is a double ended vessel, distinguished from a Colin Archer (for which she is often mistaken) by being plumb in the stem rather than cut away in the forefoot. She is of carvel construction, with planking fastened by juniper and more recently green oak tree nails of up to 30mm diameter. Planking is also fastened with 6″ monel and galvanised dumps along stem, stern, garboard and the hood ends.
Engine and Drive
The original single cylinder Wichmann semi diesel engine was replaced in 1988 by a conventionally aspirated Perkins 6.345 inline 6 cylinder engine, which drives a Borg Warner 2.9:1 Velvet Drive transmission, coupled via an R&D coupling to a 2.5″ stainless propshaft and stern tube with a conventional stuffing box and cutless bearing to 3-bladed prop measuring 20″ x 30″. Both the engine and gearbox are operated by Morse controls mounted near the wheel.
Lista Light carries 258 gallons (1173 litres) of diesel in 2 stainless tanks and consumes approximately 1.3 gallons per hour at 6 Knots (1500rpm) giving a range under engine of some 1200 miles. The tanks can be drawn from separately or together and are fed to the engine via 8mm copper pipe, through separate sediment bowls, water traps and inline fuel filters. Both tanks have separate water drains at their bases.
A seperate 12v fuel polishing system ensures in-line filters remain clean and fule can be pumped between tanks without the engine running.
The engine is situated in the centre of the engine room enclosed in an easily accessible insulated slot sided box which also acts as a work bench. Cooling is conventional via a sea water cooled heat exchanger and wet exhaust.
Electrical and Water Systems
The electrical system is 24v using 4 pairs of 12v batteries and a single 12v battery. One pair is dedicated to the anchor winch and the other pair to engine starting, though both are parallelled together for resilience. The third bank of two pairs are deep cycle domestic batteries for all other power needs which include the fridge, lighting, navigation lights and equipment, interior lighting, radar, etc. The 12v standalone battery operates the Lister generator starter.
Life aboard is typically 100% powered by 360W solar power using a 1500W pure sine wave inverter, capable of running all IT/Powertools/additonal lighting and even our kettle and vacuum cleaner. When underway additional power is delivered by the 100W Wind/Tow generator.
Battery charging facilities include a 24v 60A Motorola alternator driven by the Perkins diesel, a mains operated battery changer, and solar power cells, all of which charge either a single battery set or multiple battery sets via a parallelling relay. The 12v standalone Lister start battery is charged via a 12v inverter driven from the 24V domestic system and from the Lister Generator alternator.The Lister generator also provides 5kVA mains 240c AC power for running the Victron 50A @ 24v mains intelligent battery charger or other items when under sail.
The entire boat was rewired in 2001, although many items have been added since. An instrument and switch panel in the engine room consists of VDO instruments for engine oil pressure, gearbox oil pressure, tachometer, amps, engine temperature, and engine hours, plus a drive gear alarm a light and engine starter switch. There are also fused switches for port interior lights, starboard interior lights, navigation lights, navigation equipment, mast head deck light, voltage converter, galley tap pressure pumps, bilge pumps, and water transfer pump.
In the bilge there are 2 x 24v Jabsco 1500 submersible pumps wired in parallel. The galley water delivery system consists of pressure operated diaphragm pumps to pressurise the Paloma gas water heater for the galley hot tap and also one on the cold side. The hot and cold water at the galley sink draw from a 100 gallon header tank on the port side, which in turn draws from either aft tank (62 gal), or starboard tank (55gal) via a Jabsco lift pump or whale hand alternative. All the plumbing is run in semi-rigid plastic.
In the interests of economy of water there is no running hot in the heads, but only a cold fed by its own 45 gallon tank. The total water capacity is about 250 gallons. The shower is also devised in the interests of economy, fed via a can carried from the sink to the heads where the shower is operated by a foot pump.
The fridge is a five cubic feet insulated, top opening, welded, polythene box. It is cooled by equipment constantly running from the domestic 24v system, venting heat to the sea via an externally mounted heatsink.
Anchoring System
The anchor winch, also fitted in 1988 is a 24v 1500w Lofrans. It is supplied by its own set of batteries in the forecastle and operated by a pendant on the end of a long cable which allows the operator to see over the side of the boat whilst operating the winch. The pendant operates one of two 24v relays which supply the winch via a 120A thermal fuse. There is 100 metres of 1/2″ chain shackled to a further 50 metres of regalvanised chain. The anchor normally used is a 90lb Claw but there is also a 180lb fisherman for occasional use, a spare 75lb CQR and a 45lb Plastimo CQR used for a kedge/stern anchor.
Navigation
An exterior mounted Garmin 521s GPS Chart Plotter  near the wheel with world basemap, VEU706L UK detail and an additional interior GPS repeater in the owners cabin
A hydraulic autopilot with dedicated fluxgate compass and NMEA links to boat GPS system
GX2100E Matrix AIS DSC Class D VHF transceiver with AIS mounted at chart table. Additional handset near helm
Standalone NASA speed / log / depth readout near helm
Navtex weather bulletin reciever
The radar system is a Raymarine SL72 with a 2kW dome mounted on the mizzen, with the output screen positioned near the chart table
Iridium 9555 Satellite phone with Omnidirectional transom mounted aerial
ICOM Submersible Handheld VHF
Balast
The balast carried consists of 4 1/2 tons of lead ingots with a little scrap lead for packing. It is mainly situated under the saloon floor, though there is some under the engine room floor.